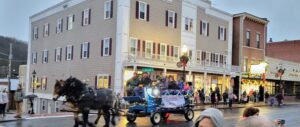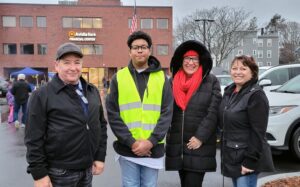 Third Middlesex District communities celebrated the holiday season with strolls, carriage rides and visits from Santa.
The 2022 Hudson Holiday Stroll was organized by the Hudson Business Association and the Hudson Downtown Business Improvement District (BID). Sponsoring and participating businesses and organizations helped make the season bright – despite the weather! – and horse-drawn carriages brought families up and down Main Street throughout the stroll.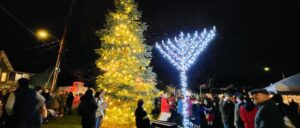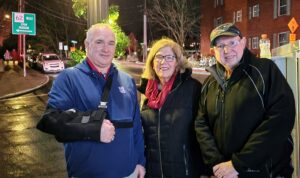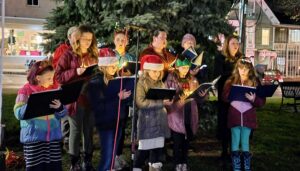 The 2022 Maynard Holiday Sip & Stroll was organized and sponsored by the Maynard Business Alliance (MBA) and festivities started at Memorial Park with Maynard's Annual Tree Lighting.
Maynard Selectboard Chair Jeff Swanberg served as MC for Sip N Stroll events like Santa, Music/Music/Music, local art, and a Holiday Window Decorating Contest.
Senator Eldridge welcomed everyone and shared thanks with much gratitude to Kelli Costa, co-owner of Gallery Seven, for creating the first MBA Holiday Sip & Stroll and for her abiding commitment and hard work. The Stroll has now become an integral part of Maynard's annual Holiday events.
There was a countdown to a tree lighting and we all waved to Santa as we strolled downtown to find the small town holiday spirit waiting.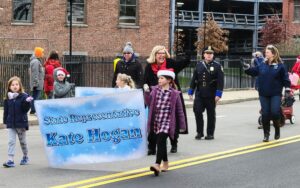 The 56th Annual Maynard Holiday Parade was an amazing event and Rep. Hogan was delighted to march with community and civic groups, girl and boy scouts, parents, volunteers, town hall personnel and electeds, our public safety officers, artists, musicians, mounted units, floats, and our grand marshal!
A huge shout out to Jen Picorelli, her family and all the volunteers for efforts above and beyond. The Town of Maynard came out to participate and to watch this magical parade. The streets were lined with families and lots and lots of happy kids. The donation trucks were filled with food for the Maynard Food Pantry and Open Table. Great job by the whole committee and all who sponsored and participated.